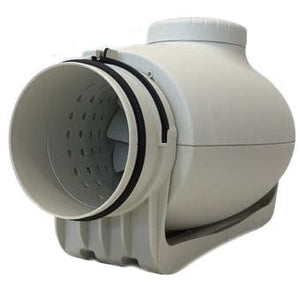 Envirovent SILMV250/100T Inline Extractor Fan + Timer
£18999

£189.99

excludes VAT at 20%
0 in stock.
3-5 Working Day Delivery
---
---
Envirovent SILMV250/100T Ultra Quiet Inline Extractor Fan + Timer
Envirovent SILMV250/100T
| | |
| --- | --- |
| 1. | Powerful 4 inch inline extractor fan with timer - 250m3/hr |
| 2. | Extremely Quiet fan- 25db(A) |
| 3. | IPX4 waterproof rated - resistant to water splashes from any direction |
| 4. | 24w - of energy used |
| 5 | Suitable for lofts and ceiling voids |
| 6. | Perfect for installations with limited space |
The Envirovent SILMV250/100T Ultra Quiet Inline Extractor Fan + Timer is a top-of-the-line ventilation system designed to provide effective and silent air extraction for your home or commercial property. This powerful and energy-efficient inline fan boasts an impressive airflow rate of 220m³/hr, making it an ideal choice for larger rooms or areas with high levels of humidity or moisture.
The SILMV250/100T features a built-in timer that allows you to set the fan to operate for a predetermined period of time, ensuring optimal air circulation and ventilation without any unnecessary energy consumption. This timer function makes it perfect for use in bathrooms, kitchens, or other areas that require regular ventilation.
One of the most impressive features of the SILMV250/100T is its ultra-quiet operation. With a noise level of only 25dB, this fan is virtually silent, making it an excellent choice for bedrooms, nurseries, or other areas where noise is a concern. This ultra-quiet operation is achieved through the use of advanced sound-absorbing materials and a specially designed motor, which ensures maximum performance with minimal noise.
Installation of the SILMV250/100T is quick and easy, and the fan can be mounted either horizontally or vertically to suit your needs. Its compact and lightweight design means that it can be installed in a variety of locations, and the high-quality construction ensures reliable and long-lasting performance.
In summary, the Envirovent SILMV250/100T Ultra Quiet Inline Extractor Fan + Timer is a top-performing and energy-efficient ventilation system that is perfect for use in a variety of settings. Its ultra-quiet operation, built-in timer, and impressive airflow rate make it an excellent choice for any property where efficient and silent air extraction is required.
For a complete and successful installation we recommend the following products:
2 x Length of Flexible Aliminium for each side of fan
4 x Duct Clamps
1 x External Grille
1 x Internal Grille
1 x Backdraught Shutter (Optional)
Please see related products below: