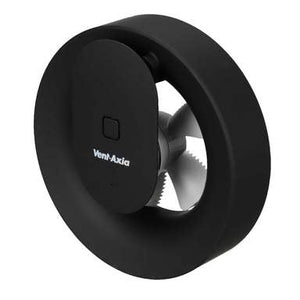 Vent Axia Svara 496711 100mm Smart Extractor Fan
£18527

£185.27

excludes VAT at 20%
0 in stock.
3-5 Working Day Delivery
---
---
Vent Axia 496711 100mm Svara Smart Axial Fan with Light Sensor, Humidistat and Timer Black
Vent Axia Svara 496711
The UK's first app controlled unitary fan
Set up and control through the app via Bluetooth
Continuous or intermittent. humidity and timer [via light sensor] function
1 model for all applications
Intelligent light sensor with overrun timer - allows replacement of a basic model fan
Only 17 dB
The App controlled Vent Axia Svara extractor fan is an incredible unit looking into the future. This unique extractor fan offers almost all functionalities and is for sure the most intriguing extractor fans we've ever tested.

Built in to the stylish and contemporary fan casing you'll find a humidistat, overrun timer and light level sensor!
It's absolutely silent, with a noise level of only 19db(A) on it's high setting.

Don't think that the silence means this fan isn't powerful, it packs mighty punch extracting 110 m3/hr or 30l/s which more than exceeds extraction levels for not only a bathroom, but also utility rooms. This power makes it more powerful than the high performing standrard bathroom extractor fans on the market!

But perhaps its best feature is how easy it is to install, programme and maintain. The Svara app can be downloaded from the App Store or the Google Play Store for free. Once installed you can tinker with every feature this fan has to offer, of which there are many. 

Light sensor
When the light sensor is enabled, Svara senses when someone is in the room and then activates. This sophisticated light sensor is triggered by light movement and shadows. It is possible to set a delayed start so the fan is not triggered during quick night time bathroom visits. The light sensor can also distinguish between headlight flashes from cars and room occupancy, so it is not triggered by passing cars, avoiding nuisance running. The sensitivity of the light sensor can be adjusted via the App.

Overrun Timer
The light sensor provides an overrun timer but only requires a live and neutral. This means that if you have a basic on/off fan installed in your home, you can upgrade without the need of an expensive re-wire.

Humidistat
Svara features a humidistat which reacts to sharp changes in humidity, for instance when someone is taking a shower. When set to continuous running, once the humidity sensor is activated, the fan runs at 30l/s until humidity returns to normal levels, then the fan powers down to 10l/s. Ambient humidity changes will not trigger the humidistat. It is possible to change the sensitivity of the humidity sensor via the App.
Specification
| | |
| --- | --- |
| Airflow Cubic Metresper Hour | 108 m³/h |
| Airflow Litresper Second | 30 l/s |
| Colour | Matt Black |
| Decibel Rating | 17 dB[A] @ 3 m |
| Depth | 81mm |
| Diameter | 177mm |
| Dimensions | (Dia)177 mm x (D)81 mm |
| Ducting Size | 100mm |
| Frequency | 50/60 Hz |
| Guarantee | 5 Years |
| Hole Size | 100mm |
| IP Rating | IP44 |
| Mounting | Wall |
| Operation Type | Timer + Humidistat + Light Sensor |
| Packaging Types | Each |
| Power Rating | 4W |
| Product Range | Lo Carbon Svara |
| Suitable For | Kitchens and Bathroom Extractor Fan |
| Supplied With | Intelligent light sensor with overrun timer |
| Unspsc V18 | 40101502 |
| Voltage Rating | 230V |
| Weight | 0.798kg |